Hot Blog
Causes of ADSS cable Galvani…

Date:2022-06-21

In the 110kV~220kV high-voltage power network, the reason for the burning and breaking of the optical fiber cable of the optical fiber communication is caused by electrical corrosion. The main reasons for galvanic corrosion are as follows: (1) Breakdown: The potential of the space where the ADSS optical cable is located is too high, so … Continue reading Causes of ADSS cable Galvanic Corrosion

Features of FTTH Drop Cable

Date:2022-05-31

Drop cable features Drop cable is commonly known as indoor hanging wiring cable. With the domestic optical fiber access market showing a good momentum of development, optical fiber access has become a hot spot in the field of optical communications. In the optical fiber access project, the indoor wiring close to the user is the … Continue reading Features of FTTH Drop Cable

ADSS Optical Cable Main Techn…

Date:2022-05-05

ADSS Main technical parameters
What is CPR?
The CPR (Construction Product Regulation) is a regulation issued by the European Union, in force since 1 st July 2016.
The purpose of the CPR is to:
Ensure the harmonization across Europe of the materials used in construction
Achieve higher safety levels for fire and dangerous substances in materials used in construction
Provide greater clarity and traceability of products used in construction
The CPR applies to all products intended to be used permanently in construction.
Is CPR a legal requirement?
CPR became a legal requirement in July 2017. For relevant classified products, suppliers will now need to provide a Declaration of Performance (DoP), showing critical information such as manufacturer's name, product type and class met.
Some suppliers may choose to supply this with the product but it is vital that the cable is labeled to give a route to obtaining a DoP. The regulation specifies that the information must be available from the manufacturer for up to 10 years from the date of purchase. You need to know what is expected from your cable supplier – without the DoP you cannot be certain that you are buying a CPR compliant product.
What's the CPR test standard for cable?
EN50575:2014+A1:2016 Cable CE Certification standard under the EU CPR Regulation
Cable CPR Certification–Fire Classification
EN13501-6 standard according to the cable heat release amount, the length of the destruction of fire and so on the flame of the cable is divided into seven levels: EN13501-6 Aca, B1ca, B2ca, Cca, Dca, Eca, Fca these seven levels.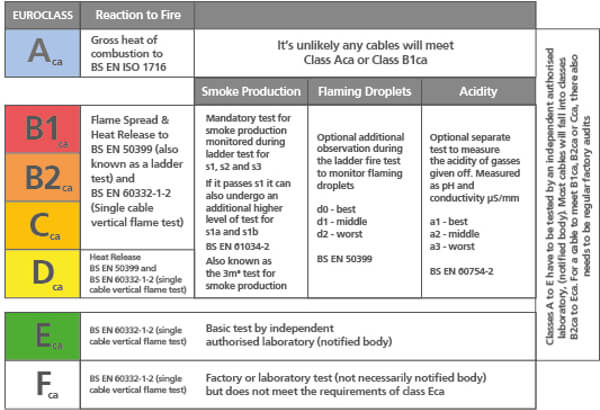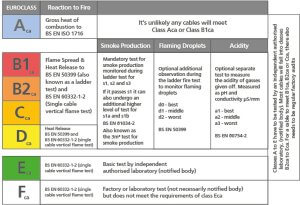 The 5 items of the cable are tested by the testing agency to determine which level the cable meets:
The heat of combustion test(Standard: EN ISO 1716)
Vertical flame spread of single cable(Standard: EN 60332-1-2)
Buring behaviour and smoke production of bunched cable(Standard: EN 50399)
Smoke production of burning cable(Standard: EN 61034-2)
The acidity of gases produced by burning cables(Standard: EN 50267-2-3)